In the August 2011 issue of Q Magazine, Adele revealed that she had already written seven songs for her third studio album and described it as being more intimate and stripped down than her previous two albums.
Translation
It's not going to be a big production. I want it to be quite acoustic with the piano as being the main musical instrument. I want to write everything, record everything, produce everything and master everything on my own. I think it will take a lot longer because I want to do it that way.
A rumor has it that her third album is due for release in May 2012 but due to problems with Adele's vocal cords, she has reportedly postponed it for later. In reality, this rumor was false. Adele released "Skyfall" on October 5, 2012.
Adele's manager, Jonathan Dickins, said her third album would be released when "the time is right". Looking at the release time between her two previous albums, many had thought that Adele would release the album three years after 21, that is to say in 2014.
Adele revealed at the Academy Awards in 2013 that she intends to work with Paul Epworth on her third studio album.
There were several rumors throughout 2013 that Adele was secretly working on her third album. Some even mention that Adele wants to release the third album before the end of 2013. In April 2013, an insider revealed that Adele would be working in the studio on her third album with the intention of releasing the album in mid-2014. At the same time, Adele's label, XL Recordings, reportedly pushed back the release date of Susan Boyle's fifth studio album in order to focus on the release of Adele's album as soon as possible. There are rumours that Adele wrote four songs and that she would work with the utmost discretion during the weeks she wrote and recorded the album in London and Los Angeles. These rumors directly contradict Adele's comments in Q magazine in 2011. Adele is reportedly working with her former collaborator Paul Epworth. In June 2013, Adele was seen several times with her son in New York, suggesting that she was there to record the album. In fact, Adele will admit that she has done many recording sessions and that almost all of them have been useless: she suffered from blank page syndrome and did not yet feel ready to write. She preferred to focus on her son, who was only 8 months old at the time.
In July 2014, the World Music Awards posted a tweet in which he revealed that Adele would release a new album titled 25 soon in the year and a world tour would follow in 2015. The allegations were rejected by Beggars Group's president Martin Mills, the parent company of XL Recordings.
Adele hinted on Twitter on May 5, 2014, her birthday, that she would release "25 later in the year".
However, in October 2014, a financial report from XL Recordings confirmed that no new Adele music was to be released that year. Indeed, such a financial report is intended to forecast the revenues of the record company and to do so all the releases of the planned records are listed, among other things. Billboard reports that "at the moment, nothing is planned." Adele reportedly insisted on making sure the album was "good enough" before releasing it.
In an interview with Sam Ashton of MSN Music, Ryan Tedder said Adele will release the album "when she decides it's over". Epworth also said the new album "will come when it's ready" in an interview for Billboard magazine in 2015. Finally, Richard Russell, director of XL Recordings, confirmed that he was pleased with Adele's progress so far, saying: "It takes time to make the album. I'm really happy with the way it's going. Adele has always had a very high level for what she does."
Ryan Tedder also told ABC News that he had heard most of the songs planned for Adele's upcoming album and that he enjoyed the album very much. He says: "I know that with the amount of incredibly good songs she has to choose – because I've heard most of them – this album is going to be crazy. She would even be able to put aside the hits and still have a really crazy album. I can't wait for her to get it out." Rumors announce a release of the album for 2015. Others point out that the album would not be released until the second half of 2015.
In March 2015, Amazon Italy pre-ordered Adele's album, titled 25. The latter is quickly removed from the sale. In April 2015, several emails and confidential documents from Sony were leaked online, including a presentation that explicitly stated that Adele was one of the artists to release an album in 2014, which Adele suggested, but that Adele postponed.
In May 2015, the album was still incomplete, as photos of Adele in full recording at The Bridge Writing Studio (south-east London) were posted on Twitter by American producer Matt Chamberlain (before being quickly removed).
In his tweet, he said: "I just finished a multi-day recording session with Adele. She really is an amazing singer. I like it.. :)". Coincidentally or not, his work will not be kept for 25.
After the success of the James Bond theme "Skyfall" in 2012, Adele was reportedly invited to record the theme of the sequel to the film but she declined the offer in order to focus on directing 25.
In May 2015, Sony Music's Open Mic website, a site that is "an exclusive online community, by invitation only, where you are asked to give your opinion on what Sony Music does and offers", published a survey regarding Adele's new music which has sparked speculation about an exit for this year. In June 2015, Roger Friedman, who oversaw Adele's involvement in Skyfall before her official announcement, announced that she had "refused to return for the sequel to the film, Spectre, to focus on recording her third studio album, including the release was scheduled for autumn 2015."
It was also revealed that Adele's third studio album would not be released until the Grammy deadline (September 30). British musician Naughty Boy told reporters that Adele would release her album in September (which contradicted what was announced earlier this year) and that several artists, such as Emeli Sandé, would postpone the release of their album to avoid to compete with Adele.
In the summer of 2015, reports indicated that twenty tracks from the album were being mixed in Hollywood and that a release before Thanksgiving was being considered. Billboard magazine confirmed this and revealed that Adele should release an album in November. It is also the turn of the tabloid Hits Daily Double to announce, in September 2015, a release for November 20, 2015. On October 22, 2015, Adele officially announced it.
FRIDAY, OCTOBER 18, 2015
Surprise broadcast of a teaser during the commercials of the show X Factor in the United Kingdom. Everyone recognizes Adele's voice and social media is inflamed following this announcement.
THURSDAY, OCTOBER 22, 2015
Adele posted an open letter on Twitter and announced her new album 25. The new single Hello is announced for October 23 with the music video.
FRIDAY, OCTOBER 23, 2015
Release of the single and music video directed by Xavier Dolan. Pre-orders open for album 25. The cover is unveiled.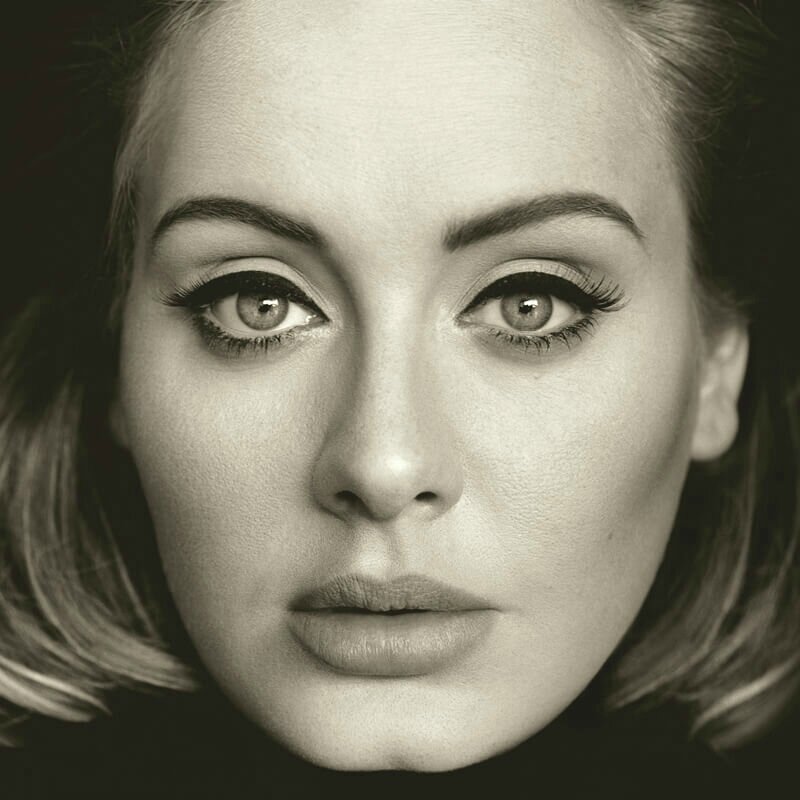 Different supports for 25 : a classic CD and vinyl version of 25 and a deluxe version from Target and Japanese of 25 (both featuring 3 bonus titles). The Target version is a digisleeve (no crystal box) while the Japanese version is a crystal CD one (with two covers inside: one in English and the other in Japanese).
WEDNESDAY, OCTOBER 28, 2015
Recording of the studio session at church studio.
LATE OCTOBER 2015 – EARLY NOVEMBER 2015
Promotion begins for the album.
FRIDAY, NOVEMBER 20, 2015
Release date for 25.
| | |
| --- | --- |
| Songs | Authors |
| 1. Hello | Adele Adkins and Greg Kurstin |
| 2. Send My Love (To Your New Lover) | Adele Adkins, Max Martin and Shellback |
| 3. I Miss You | Adele Adkins and Paul Epworth |
| 4. When We Were Young | Adele Adkins and Tobias Jess Jr. |
| 5. Remedy | Adele Adkins and Ryan Tedder |
| 6. Water Under The Bridge | Adele Adkins and Greg Kurstin |
| 7. River Lea | Adele Adkins and Brian Burton |
| 8. Love In The Dark | Adele Adkins and Samuel Dixon |
| 9. Million Years Ago | Adele Adkins and Greg Kurstin |
| 10. All I Ask | Adele Adkins, Bruno Mars, Philip Lawrence and Christopher Brody Brown |
| 11. Sweetest Devotion | Adele Adkins and Paul Epworth |
| | |
| --- | --- |
| Songs | Authors |
| 1. Hello | Adele Adkins and Greg Kurstin |
| 2. Send My Love (To Your New Lover) | Adele Adkins, Max Martin and Shellback |
| 3. I Miss You | Adele Adkins and Paul Epworth |
| 4. When We Were Young | Adele Adkins and Tobias Jess Jr. |
| 5. Remedy | Adele Adkins and Ryan Tedder |
| 6. Water Under The Bridge | Adele Adkins and Greg Kurstin |
| 7. River Lea | Adele Adkins and Brian Burton |
| 8. Love In The Dark | Adele Adkins and Samuel Dixon |
| 9. Million Years Ago | Adele Adkins and Greg Kurstin |
| 10. All I Ask | Adele Adkins, Bruno Mars, Philip Lawrence and Christopher Brody Brown |
| 11. Sweetest Devotion | Adele Adkins and Paul Epworth |
| 12. Can't Let Go | Adele Adkins and Linda Perry |
| 13. Lay Me Down | Adele Adkins and Tobias Jesso Jr. |